Blockchain Series Part II: Crypto Winter Season – How Long Is This Going to Last?
Blockchain Series Part II: Crypto Winter Season – How Long Is This Going to Last?
In the summer months of 2018, while it feels seasonally warm physically for most of us, for many cryptos investors, the long winter season just dragged on even into the hot & humid summer. Originally, I planned on writing something in extension from Blockchain Series Part I: Origins of the Blockchain Buzz, but I've gotten a significant number of inquiries in regard to the correction in crypto assets' prices. I thought it would be appropriate and timely to address such a topic.
Below is a recap of the article which was written recently, Blockchain Series Part I: Origins of the Blockchain Buzz (https://www.linkedin.com/pulse/blockchain-series-part-i-origins-buzz-henry-h-ngan-mba-cpa/). 2017 was a breakout year for many cryptoassets, in particular bitcoin, where the price appreciated significantly (starting around $1,000 and climbing to around$20,000 at its highest - a 2,000% return - and close the year at around $13,000 or 1,300% return). In comparison to historical annual returns for US equities at approximately 10%, that's quite a return! As the old saying goes, what goes up must come down, and 2018 is marked by significant price drops for many cryptoassets. Please see below for the total market capitalization for all cryptoassets from the beginning of 2016 until around mid-August 2018.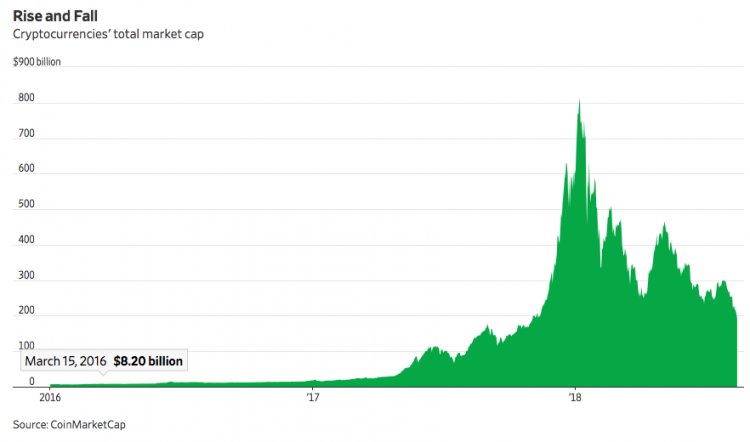 This roller coaster ride in 2018 for cryptoassetswould make any seasoned professional investor nauseous. When you seriously consider the absurd level of appreciation for this asset class in 2017, which rivals the Tulipmania that happened in the Dutch Republic in the 1630's, why are people still surprised to see a major correction in 2018? While I am never accurate in predicting the timing of corrections, though, I would make an argument that the correction was setup to happen; I thought it is better and healthier for the long-term adoption of this asset class to occur with this significant correction. Please see the chart below for some of the more well-known coins with their respective % declines.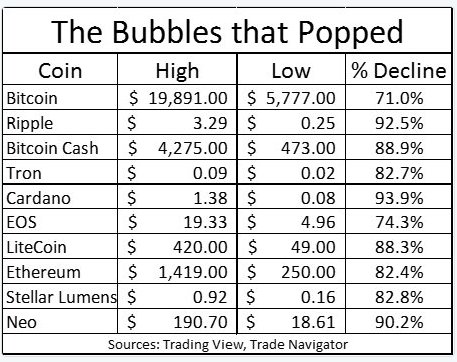 The next fair question which is often asked by many is: when will this winter season for cryptos end? As I mentioned earlier, I can never forecast the future in particular timing with any type of certainty, but the more important part is that the correction that took place in 2018 should set up the potential long-term growth and adoption for cryptos in my view. It is more likely than not that we'll once again see the booms & busts of cryptoassets' prices in the future. In my opinion, I believe the more significant issue for cryptoassets is how the government regulations will play out for this particular asset class, while I strongly believe there is more than enough room for cryptos to co-exist with fiat currencies as an alternative. It is certainly fascinating to see what the future holds.
written by:
Henry H. Ngan, MBA, CPA
https://www.linkedin.com/pulse/blockchain-series-part-ii-crypto-winter-season-how-ngan-mba-cpa/